Accident Investigation Bureau Nigeria (AIB-N) has called for the effective participation of all stakeholders in ensuring safer skies in the Nigerian aviation industry and the sustenance of such participation.
The Commissioner of the Bureau, Engr. Akin Olateru, who made this call while engaging stakeholders and the general public in the Northern region where the Bureau operates from its regional office in Kano, restated the importance of stakeholders' engagement within and outside the aviation industry in ensuring safer skies as AIB alone cannot do it all
Olateru who was represented by the General Manager Public Affairs, Mr. Tunji Oketunbi at Stakeholders Awareness Conference held in Kano on Tuesday, while reeling out the core functions and the achievements the Bureau has garnered so far said the agency has succeeded in enthroning a regime of prompt release of accident reports.
He added that the Bureau will be releasing a couple of final reports to the public in a week's time.
The representative of Secretary to the State Government, Alhaji Sagir Muhammad who is the Special Adviser to the Governor on Cabinet Affairs appreciated the management of AIB for organising such enlightenment seminar, which he said was a wakeup call to all the stakeholders to often engage one another to stay in conformity with international best practices.
Muhammad added that the 'state will be willing to participate and collaborate with the Bureau to further create enlightenment programs for airlines and passengers to ensure safety'.
He, however, charged all air passengers to adhere to flight attendants' instructions on the use of their mobile devices while onboard.
Olateru also called on the participants of the stakeholder awareness conference and their agencies to collaborate with AIB on air safety and emergency response stressing that the Bureau was open to synergy with any willing organisation as it has done with several others within and outside the country.
The presentations delivered at the conference focused on the management structure of the Bureau, AIB regulations, components of accident investigation and notification of occurrence processes.
Participants expressed profound gratitude to the organisers of the event, International Gazelle Limited for exposing them to in-depth knowledge of the Bureau and the role the participants could play as individuals to ensure safer skies in the country.
Participants were drawn from several agencies including Federal Airport Authority of Nigeria (FAAN), Nigerian Airspace Management Agency (NAMA), Nigerian Metrological Agency (NIMET), Nigerian Civil Aviation Authority (NCAA), the Nigerian Police Force, Kano State Emergency Management Agency, Federal Fire Service, Nigerian Immigration Service, Nigerian Security and Civil Defence Corps (NSCDC) and Federal Road Safety Corps (FRSC).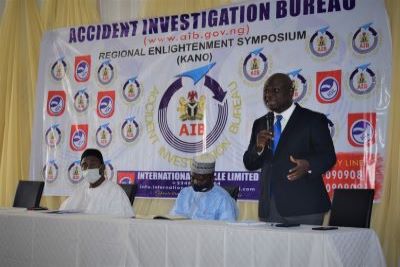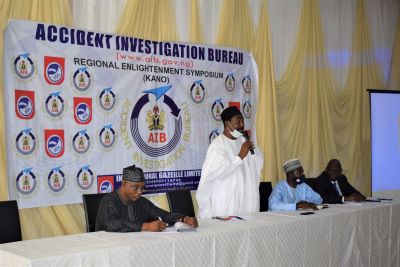 For enquiries contact:
Tunji Oketunbi
General Manager, Public Affairs
Tel: 08077090928
Email: oketunbitunji@aib.gov.ng
Our official communication channels:
Mobile App: AIB-N
Website: www.aib.gov.ng
Twitter: @aibnigeria
Instagram: @AIB_Nigeria
Facebook: AIB Nigeria
Email: Commissioner@aib.gov.ng
SMS/WhatsApp: +234807 709 0900, 0807 709 0928